Whether you own or rent your home, a security system offers peace of mind against theft, fire and other hazards. However, monthly fees for professionally monitored security systems may be too much for your budget.
If you've shopped around and concluded that monitored systems won't work for you, you still have options. Connected home technology offers great DIY home security choices with the advantages of a traditional security system at a fraction of the cost.
Pros and cons of DIY security systems
A DIY home security system has its pros and cons. Before you commit, here's what you need to know.
As the name implies, by going DIY, you don't get professional installation. On the flip side, these systems are usually easy to set up. They're wireless and require no special mounting hardware. Typical units need only a power outlet (or batteries) and a place to sit.
Because you don't have to drill holes in the wall to install these systems, they're a great choice for renters. You can set them up anywhere without damage and take them with you when you go.
There are no contracts or required monthly fees, which makes DIY systems an attractive option for keeping monthly costs down.
You can buy as much or as little security system as you want. Most DIY systems are modular, with components like cameras, smoke detectors and door sensors. Customize your system to include only what you want. You don't have to pay for a one-size-fits-all package with these systems.
You may be losing out on professional monitoring if you choose a DIY system. The trade-off for no monthly fee is that no one's keeping an eye on your system except you. While some companies offer monitoring to go with DIY security systems, a monthly fee will be involved.
Your system is only as good as your monitoring because, again, without professional monitoring, you're the one doing the monitoring. A DIY security system is designed to work with your mobile device, letting you check your system from wherever you are and sending notifications if anything's amiss. This requires a bit more attention on your part, so bear that in mind if you choose a DIY system.
Picking the perfect security system
If a DIY system is the right option for you, the next step is deciding what kind of system to buy. If you've already been shopping around, you know there's a dizzying array of options. We narrowed down the field to the best systems for the average user, so we only considered systems that included these features.
A hub with internet access connects all the individual parts of your security setup and lets them work together. Internet access ensures you can access your system from anywhere.
A smartphone app for remote monitoring lets you keep an eye on your home.
Door sensors detect when doors are opened.
Window sensors detect when windows are opened.
Movement sensors detect when something moves within a room.
An internet-connected camera lets you see what's happening live in your home.
A high-decibel alarm scares off thieves and alerts neighbors of a problem.
While the above features are essential for a good system, a few additional features can make a good system even better.
Professional monitoring adds a monthly fee, but it can give you solid system without the contract required by traditional services.
Compatibility with other smart home gear can be a great benefit if you have a smart home set up already. If you've invested in smart home tech, look for a security system that works with it.
Battery backup allows your system (or at least parts of it) to work without power.
Considering these features, we narrowed down the best available DIY home security systems to just four: Samsung's SmartThings, the iSmartAlarm, the Piper NV and the Insteon. All include our must-have features, and each works with certain types of smart home systems. Which one is right for you?
Piper NV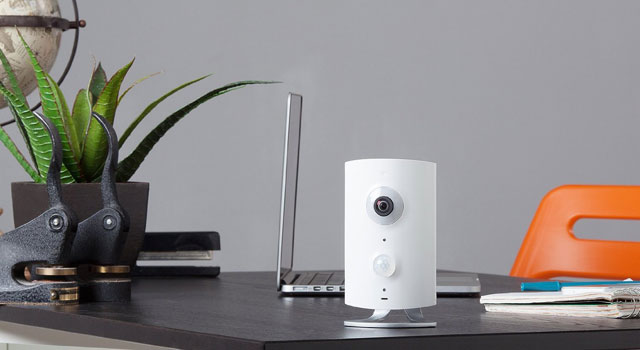 Piper's systems are as streamlined as you can get. The core of the Piper NV system is a single device that contains a camera with night vision and a 180-degree field of view, a motion detector and sensors that detect light, sound, temperature and humidity, and a 105-decibel alarm. All you have to do is set the unit on a shelf, plug it into a power source (and add batteries, in case the power goes out) and connect it to your Wi-Fi network. You're good to go.
Set up your Piper through the smartphone app for iPhone or Android, then configure simple rules for what it should do when it detects anything. You can check on the house at any time and get alerts by push messages from the app, text messages, email or phone calls.
There are two ways to add additional functionality to the Piper. The system is compatible with Z-Wave compatible home automation devices; paving the way to add a world of smart sensors and gadgets to your Piper. Expand it into a full-fledged security system with door and window sensors, or turn it into a home automation system with connected thermostats, lights and more. The Piper also supports IFTTT, giving you even more ways to connect it with other smart gadgets.
Though the Piper is more of a one-size-fits-all solution, it's a great choice if you're looking for simple setup, and you can still expand it with add-ons if you decide you want to.
Price: $235 from Amazon